Co-working trial week
Monday 5th July- Friday 9th July 2021
Our FREE Co-working trial week begins on Monday 5th July– Friday 9th July 2021. Come and try out the co-working spaces at Heywood House for the week 9 am -5:30 pm all week or on individual days in the week.
It is the perfect opportunity to see if a co-working space can help you get a great working balance whilst working from home or Hybrid working remotely from your usual place of work.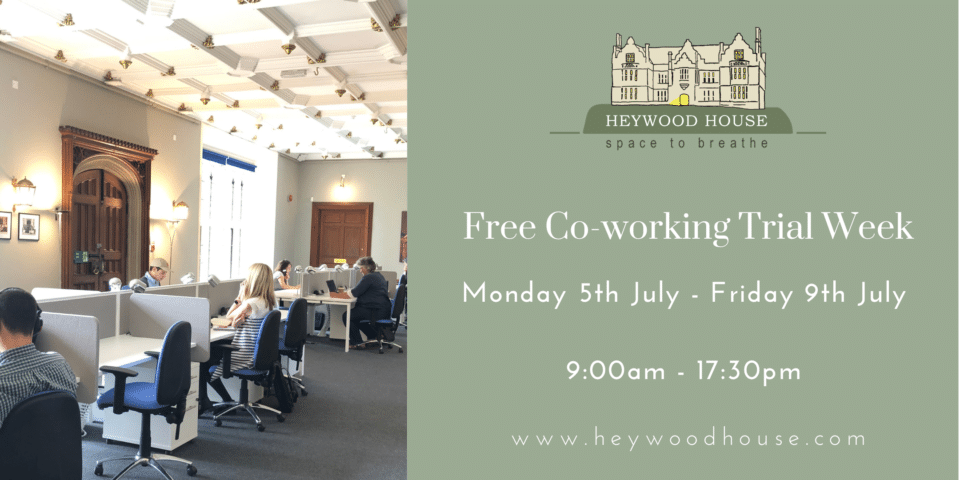 The Co-working trial week will let you try the facilities here for FREE all week. Come and book your ticket for the week or whichever day you require.
• Use the co-working area in the Mansion house and everything that it offers⠀
• Try hot desking in the Conservatory⠀
• Sample the delicious homemade food and beverages in the café
• Have an informal meeting in the Conservatory
• Book a meeting room whilst you are here to meet clients or conduct a Zoom meeting⠀
• De-stress and clear your head walking in the grounds ⠀
• Go for a walking meeting here on site⠀
Come and book your free ticket here: https://www.eventbrite.co.uk/e/158393305641
Or get in touch for more details:  Email: landlord@heywoodhouse.com    |    Tel: 01373 486800
Why not visit us on Social Media?...
Twitter: @HouseHeywood
FB/Instagram/LinkedIn: @heywoodhousewiltshire
Or sign up to our newsletter?
www.heywoodhouse.com/newsletter